Why Choose Pre-Ethernet?
Telecoms resellers in the UK have been selling Ethernet for many years. The key reasons for selling this product have been its reliability, longevity in terms of contract length, and capability in terms of throughout.
However, it was recently shown that BT will be fined £42m by Ofcom (the largest fine it has ever given) for failure to meet its SLA in terms of Ethernet delivery. They will also pay £300m to corporate customers for delays in installing high-speed lines.
Our award-winning Pre-Ethernet product solves this challenge by immediately enabling connectivity for the customer via a 4G connected router. The router works as an initial connectivity device until the Ethernet line becomes active three to six months later, allowing our partners to collect revenue from day one of the sale.
Once the Ethernet has been delivered, we can convert the service to be used as a failsafe or disaster recovery option, should the Ethernet ever go down.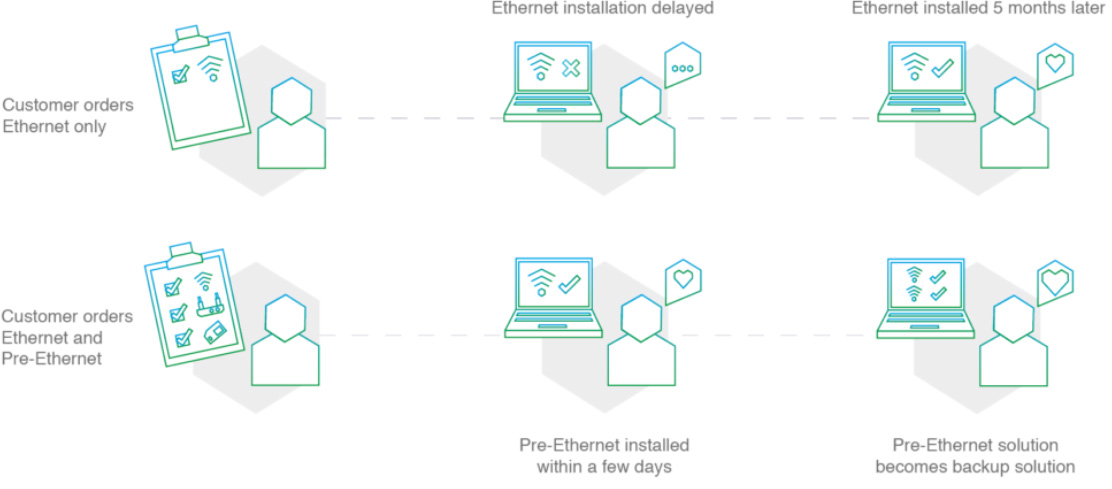 Click to open image in new window
For more information on our quick and simple set-up process
call 0800 9890 052 or e-mail info@fibre1.uk